30 August 2022
1M1C : September 2022 – Arnaud Degand, Head of Production and Maintenance at the Arras site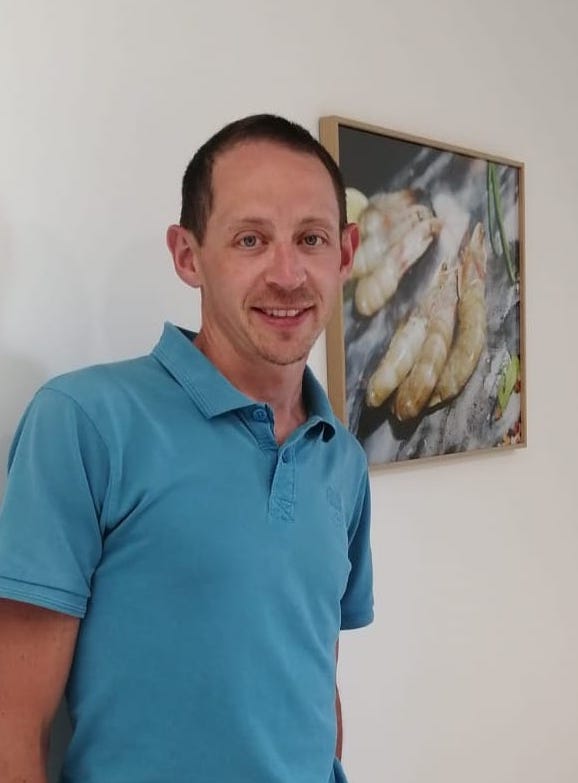 Arnaud joined Crusta C in May 2020, initially heading up the maintenance team. As of this year, he has also been responsible for production at this site.
It was during lockdown that Arnaud decided to bring to a close one chapter of his working life – 20 years spent in charge of the maintenance department of a hundred year-old family-run rotary printing firm which had seen many changes over the years. He turned a new page on his career at Crusta-C 'a family-run business with a strong identity'.
His background is not in the agri-food industry, but he's wanted to explore this sector for a long time. Joining a new company in the process of setting up a new site – and getting all its human and technical resources up and running was Arnaud's first challenge on coming onboard the Crusta-C ship.
'I'd like to thank Robin Pontier for having had confidence in me right from our first meeting'.
How would you describe your typical working day?
The Arras site has a small team with just one production suite. Thanks to the wide range of communication channels we use, I know what kind of work will be waiting for me in the morning. No two days are the same. The verb 'to be bored' wasn't something I ever learnt at school. Even very minor issues at production level can quickly have significant impacts upon the quality of service we offer our clients. I streamline and coordinate work schedules and tasks in line with my team members' priorities and what needs to be done most urgently.
I try to maintain a close relationship with all team members, from those at the operational level to headquarters staff. I coordinate the key tasks performed by the maintenance teams and bring my on-the-ground experience to help implement the different processes in play as efficiently as possible.
Managing the production teams also allows me to have a good idea of the challenges individual staff members are facing.
In a few words, describe your role to us.
Anticipate, demonstrate resilience, play my part
ANTICIPATE: Always being capable of predicting what could happen over the next twelve months, identifying different scenarios with a view to meeting our goals for the JMI Group.
DEMONSTRATE RESILIENCE: Not giving up when faced with minor difficulties. This enables us to show that we're all capable of giving 110% in pursuit of a common goal.
PLAY MY PART: It means a lot to us that we provide millions of people with food products which are guaranteed to be healthy and of the very best quality.
What are the key challenges or goals you have at work?
It's not in my make-up to rest on my laurels, I'm always seeking to better myself. That's just as well in the world we're currently living, which is experiencing multiple crises. You have to have it in you to do better and go further. You need to be able to hold onto what you have already and to adopt new ways of doing things in this incredibly interconnected world.
If you could choose anyone at all to be your mentor, who would it be?
To tell you the truth, I've never really asked myself this question…I'd say my father. He was a coal miner from the age of 12 and he never stopped working, first to feed his brothers and sisters and then his own family. Even when he was in poor health, he was never able to stay still. As they say in the north, 'blood is thicker than water'.
What do you like best about your work?
The adaptability that I need to do this job. Sometimes it can be tiring, but it's very enriching!
Which professional achievement are you most proud of?
I'm most proud of having totally changed my line of work and really having been able to spread my wings in this new career. I'm also proud people put their trust in me and in what I was able to bring to the table with my experience. This enabled me, alongside others, to shape the processes that drove forward the construction of a new production site that has never ceased to evolve.
What advice would you give to new team members?
Listen carefully to those around you. Above all, put into practice what they teach you. Feel free to ask questions. I like using set expressions to sum up my thinking, so I'd say: 'Do not push away the canoe that helped you cross the river' (Madagascan saying).
September's question is: 'September = back to work & back to work = less time for cooking. Which one of our marinated products would you like to enjoy on your lunch break?'
As it happens, I discovered prawns marinated in garlic and herbs at home. I gently fry thinly sliced leek in a wok with some olive oil, along with fresh, firm-fleshed tomatoes from the garden, roughly diced. Then I add the prawns, the garlic and herb sauce and fry under a gentle heat and it's ready!
Serve with a 'Bonnet Rouge' fruit beer from Brittany.
Delicious, simple and convenient!
We'd like to thank Arnaud Degand for agreeing to take part in our September interview!
If you would like to read more interviews, take a look at our blog.
If you would like to join our team, feel free to check out our vacancies. If you'd like to send in a speculative application, just click here.