3 October 2022
1M1C – October 2022 – Erwan Camus, Health, Safety and Environment Assistant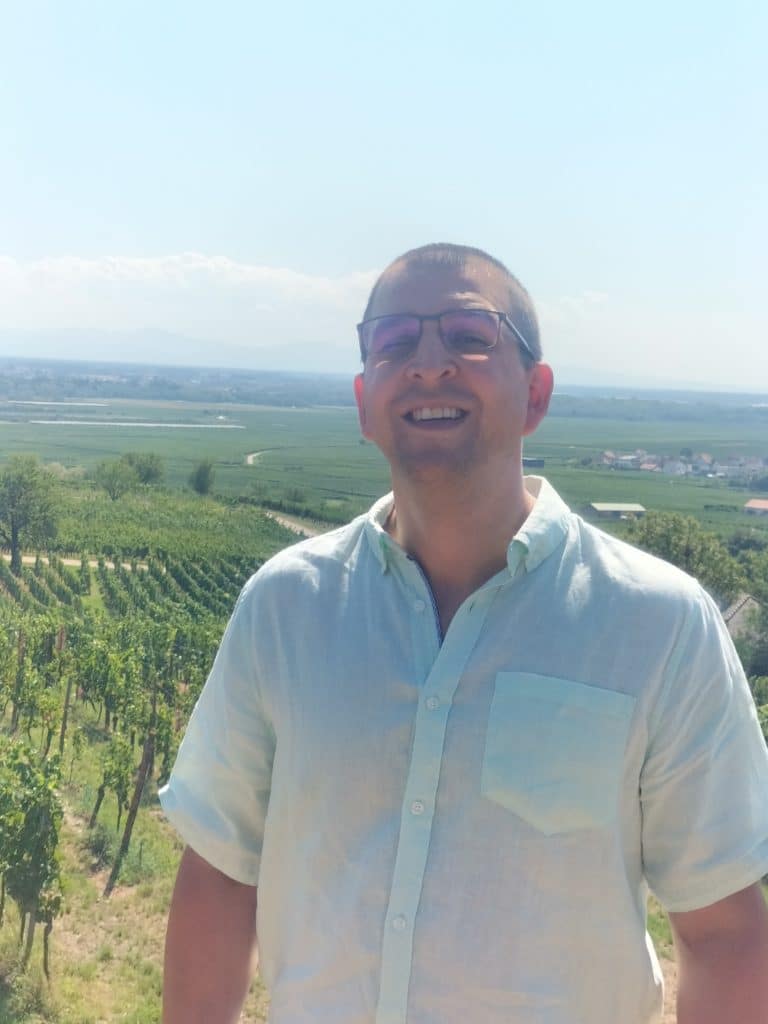 With a Master's degree in Environmental Chemistry and 10 years' experience in the HSE field in various industries and the construction sector, Erwan began his adventures with CRUSTA'C over 4 years ago as an HSE assistant HSE on the Boulogne sur Mer site.
How would you describe your typical working day?
I don't really have a 'typical' working day. They are extremely varied with a lot of different issues to tackle and unexpected surprises too.
In the course of a single day I can go from organizing and monitoring regulatory reviews to accident analysis, dealing with a problem relating to waste or monitoring energy KPIs.
What projects are you currently working on?
Some of the projects I'm currently busy on relate to the extending of the Boulogne site, specifically, ensuring that the new extensions are in compliance with fire safety and electrical regulations.
I'm also currently working on a study of how we can operate our process water treatment systems more efficiently.
In a few words, describe your role to us.
Raising awareness, Analyzing, Advising.
• Raising awareness: raising awareness and training staff and third-party contractors on health, safety, environmental and energy regulations that apply to the site. Ensuring guidelines and regulations are adhered to.
• Analyzing: analyzing risks and implementing a programme aimed at improving working conditions and reducing the number of accidents. Checking that equipment and facilities are compliant with regulations.
• Advising: placing my technical know-how at the disposal of senior management, line managers and various company departments as it relates to a range of HSE-related topics (certification, record-keeping, action plans, how to manage regulatory inspections etc...)
What are the key challenges or goals you have at work?
My key challenge is to achieve the goal of 'zero accidents'.
I want to help every team member understand they are responsible for their own safety and that of others and that the HSE role is not there to make their lives difficult. Rather, it plays an advisory and preventive role which benefits all employees.
It is simply not acceptable for staff members' physical safety to be at risk in their workplace.
'Safety is everyone's business.'
If you could choose anyone at all to be your mentor, who would it be?
If I has to choose a mentor, it wouldn't be a person, but a sport that I've been involved in since I was very young: judo.
It's not just a martial art but a veritable 'university of life'.
It teaches you a moral code and values which are very applicable to both the personal and professional spheres.
What do you like best about your work?
What I like about my work is the tremendous variety of topics that I encounter, working in partnership with the company's HSE teams and knowledge-sharing.
There's no time to be bored, my working days are rewarding and fast-moving.
Which professional achievement are you most proud of?
I had come to fill a position in an industrial field with which I was unfamiliar – it has to be said that it was a pretty tall order.
However, I persevered and just got on with the job in hand. Supported ably by senior management, the HSE department and the workforce as a whole, I pulled off this challenge with aplomb and am now an integral part of the Crusta C team.
I think that's a pretty good achievement on both a personal and a professional level, don't you?
After 10 years in my job, I still love what I do and my watchword hasn't changed.
'The longer the climb, the harder the ascent, the greater the satisfaction and the more beautiful the view once you get to the top' - Jigoro Kano
What advice would you give to new team members?
I'd say to know how to adapt, to be passionate and proactive about what they do, to communicate well.
You need to be capable of adapting to whatever situation you might come across in your job and exhibit humility, learning from one's failures and thus transforming them into successes.
Love what you do. Get up each morning to go to a job where you can develop as a person as well as an employee striving to do their best in the company. Get your work-life balance right.
Good communication skills and team work are two elements which are critical to successfully becoming part of the corporate team.
October's question is: you love pastries and cakes, which is the best cake to enjoy with friends during the Hallowe'en period?
It's hard to choose between the classic graveyard cake which is very easy to make – kids can help out – and witches' fingers biscuits for a more gory vibe.
If that's not ghoulish enough for you, try some bloody brains washed down with an equally gory cocktail.
Muahahaha!!
We'd like to say a big thank you to Erwan for taking part in October's interview!
If you would like to read more interviews, take a look at our blog.
If you would like to join our team, feel free to check out our vacancies. If you'd like to send in a speculative application, just click here.