31 May 2023
1M1C – June 2023:  Josselin Baylac, Service Engineer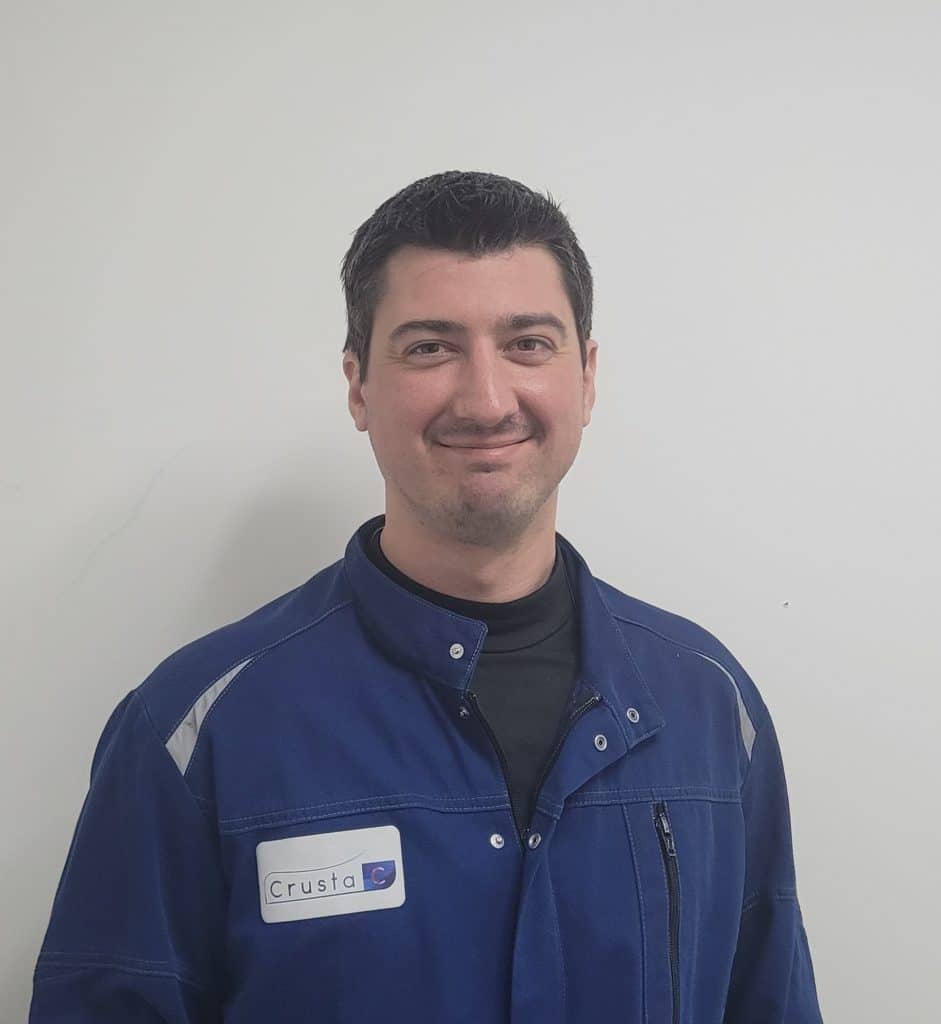 A native of the Landes, Josselin BAYLAC occupies a service engineer position at Crusta C 's l'Isle Jourdain site.
After working 9 years as a technician in a sweetcorn canning factory and 2 years as an electrical site supervisor, he joined our team a little over a year ago!
How would you describe your typical working day?
Let's see…every day is different. You'll have technical incidents (although far fewer than in the past), and quieter periods, enabling us to focus on other tasks. There's no time to get bored!
What projects are you currently working on?
I'm working on the installation of a new skin pack tray transport system and mixer for our marinated range.
On a day-to-day basis, I ensure that our machines achieve an OEE score of 100% and keep down-time down to a minimum.
In a few words, describe your role to us.
Technical, Adaptable and Observational
Technical: the engineer's job is to have a good understanding of the extremely varied technologies that we use. 
Adaptable: in line with the problems facing us, we have to be adaptable to come up with permanent or stop-gap solutions to keep production going without interruptions.
Observational: we need to be always watching our production machinery and listening out for tell-tale sounds that might signal a potential problem. 
What are the key challenges or goals you have at work?
Every day I have new challenges to tackle. Machines don't tell me what's wrong. My work schedule is constantly changing with tasks being completed and new ones arriving!
I hope that one day I'll be able to take over my line manager's service and maintenance responsibilities (with a nod to the best boss in the world, according to Father Christmas).
If you could choose anyone at all to be your mentor, who would it be?
There's no one person I'd single out, anyone you come across can help you to develop in different areas. To my mind, it's best to make the most out of the encounters and meetings we have.
What do you like best about your work?
The sheer variety of things to do; the thought processes needed to improve and make our production equipment more reliable; the interactions with colleagues from different departments, this being a necessity of the role. Also, the passing on of know-how.
Which professional achievement are you most proud of?
Regarding professional achievements, above all, I'm pleased that our teamwork has enabled us to hit our performance targets for several months running.
This is a good result and, more than that, something of a milestone which we now have to consolidate and build on.
What advice would you give to new team members?
Always have an inquiring mind, never stop learning, re-evaluate yourself and always push on, even and especially when it's hard to do so.
June's question is: summer is back, have you any suggestions of recipes best enjoyed in the sunshine?
A very simple aperitif: prawns, pan-fried in a little olive oil, parsley and garlic.
We'd like to thank Josselin for agreeing to take part in our June interview!
If you would like to read more interviews, take a look at our blog.
If you would like to join our team, feel free to check out our vacancies. If you'd like to send in a speculative application, just click here.